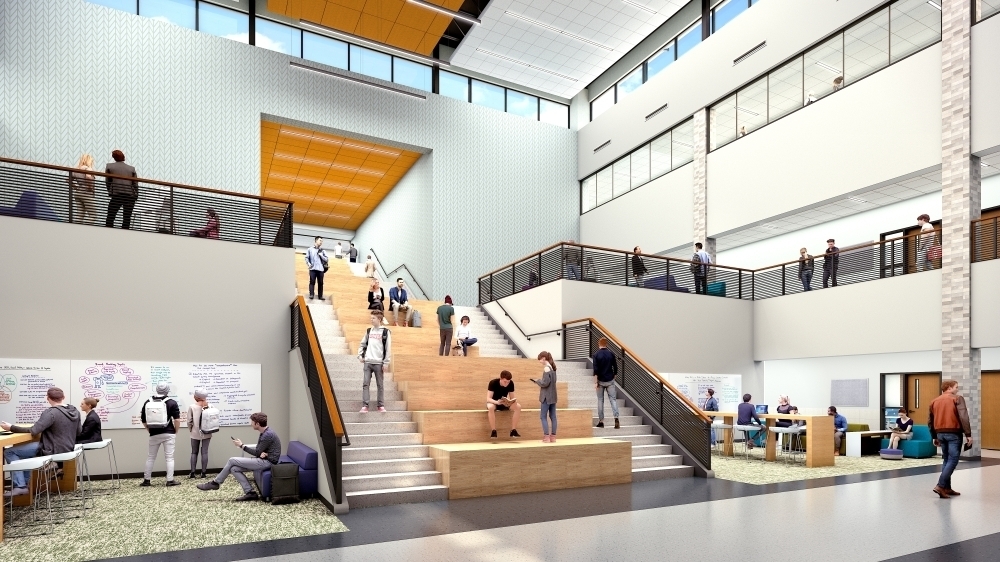 Frisco ISD proposes attendance zone modifications; rental community coming to McKinney and more top area news
A rendering of a flexible room in Panther Creek High School that includes study stairs and a collaboration board. The school's attendance zones are drawn from Lone Star and Memorial High Schools. (Courtesy Corgan)
Read the last week's major business and community news from the Dallas-Fort Worth area.
Frisco
Frisco ISD proposes changes to the attendance zone for the school year 2022-23
As Frisco's population grows, a rededication is taking place to preserve the district's small school model, which allows students to participate in extracurricular activities.
More restaurant and retail space could come into the North Frisco development where HEB owns land
Plans for a restaurant and more retail space in a mixed-use development on the southwest corner of US 380 and FM 423 have been approved by the Frisco Planning and Zoning Commission.
The Frisco Oxbow presented to the city guides would coincide with Parvin Creek Green space, booming northern region
The Oxbow in Frisco, dubbed "A New Texas Landmark Prairie," is a US $ 5.1 billion, 218 acre project located on the southwest corner of Dallas North Tollway and US 380 target.
Crush Taco to open second Frisco location
Crush Taco plans to open a second location in January on the former Jenevein's property at 360 Stonebrook Parkway, Ste. 100, Frisco.
McKinney
Lease community lives on 27 acres of McKinney's Painted Tree housing estate
A project offering 276 apartments and townhouses for rent will break the ground in November Painted tree, a shared apartment owned by the development company Oxland Group.
Brooklynn Cooper, Matt Payne, and Miranda Jaimes contributed to this report.
[ad_1]